Welcome to the Amira-Avizo Software Use Case Gallery
Below you will find a collection of use cases of our 3D data visualization and analysis software. These use cases include scientific publications, articles, papers, posters, presentations or even videos that show how is used to address various scientific and industrial research topics.
Use the Domain selector to filter by main application area, and use the Search box to enter keywords related to specific topics you are interested in.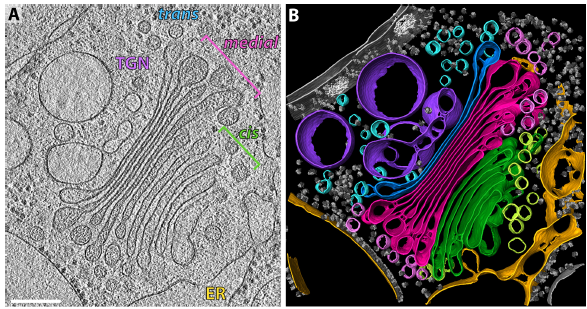 The structure of the COPI coat determined within the cell
COPI-coated vesicles mediate trafficking within the Golgi apparatus and from the Golgi to the endoplasmic reticulum. Here, we applied cryo-focused ion beam milling, cryo-electron tomography and subtomogram averaging to determine the native structure of the COPI coat within vitrified Chlamydomonas reinhardtii cells. The native algal structure resembles the in vitro mammalian structure, but additionally reveals cargo bound beneath beta'–COP. We find that all coat components disassemble... Read more
Yury S Bykov, Miroslava Schaffer, Svetlana O Dodonova, Sahradha Albert, Jurgen M Plitzko, Wolfgang Baumeister, Benjamin D Engel, John AG Briggs

Read full paper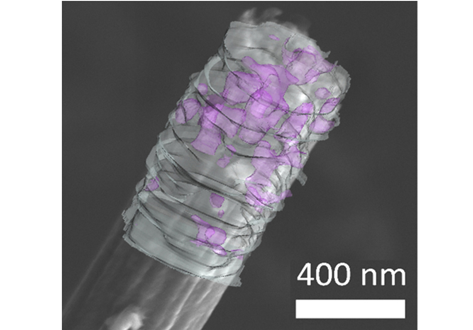 Flexible all-fiber electrospun supercapacitor
Electrospun all-fiber flexible supercapacitor with nanofiber electrodes/separator.
Increased graphitic degree with the addition of MnACAC and thermal decomposition.
Enhanced capacitive performance with the addition of MnO.
Quantified nanofiber alignment and increased bias with MnO over undoped fibers.
FIBSEM tomography of nanofibers showing MnO disitribution in carbon nanofibers.
We present an all-fiber flexible supercapacitor with compo... Read more
Xinhua Liu, Max Naylor Marlow, Samuel J. Cooper, Bowen Song, Xiaolong Chen, Nigel P. Brandon, Billy Wu

Read full paper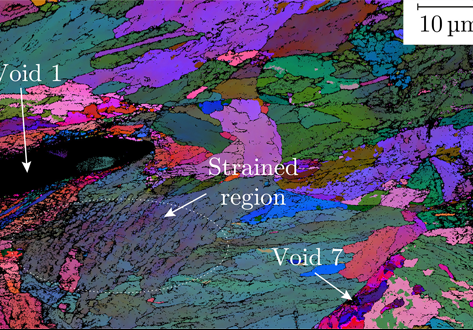 A multi-scale correlative investigation of ductile fracture
The use of novel multi-scale correlative methods, which involve the coordinated characterization of matter across a range of length scales, are becoming of increasing value to materials scientists. Here, we describe for the first time how a multi-scale correlative approach can be used to investigate the nature of ductile fracture in metals. Specimens of a nuclear pressure vessel steel, SA508 Grade 3, are examined following ductile fracture using medium and high-resolution 3D X-ray computed to... Read more
School of Materials, University of Manchester; National Nuclear Laboratory; BAM Federal Institute for Materials Research and Testing; Thermo Fischer Scientific

Read full paper