Welcome to the Amira-Avizo Software Use Case Gallery
Below you will find a collection of use cases of our 3D data visualization and analysis software. These use cases include scientific publications, articles, papers, posters, presentations or even videos that show how is used to address various scientific and industrial research topics.
Use the Domain selector to filter by main application area, and use the Search box to enter keywords related to specific topics you are interested in.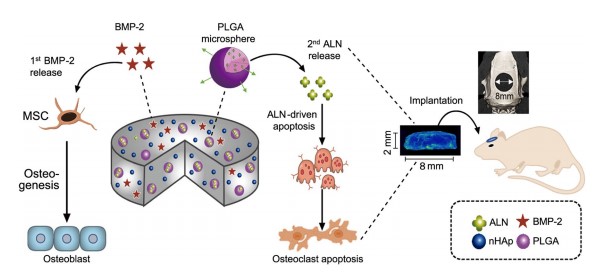 Sequential dual‑drug delivery of BMP‑2 and alendronate from hydroxyapatite‑collagen scafolds for enhanced bone regeneration
The clinical use of bioactive molecules in bone regeneration has been known to have side effects, which result from uncontrolled and supraphysiological doses.
In this study, we demonstrated the synergistic effect of two bioactive molecules, bone morphogenic protein-2 (BMP-2) and alendronate (ALN), by releasing them in a sequential manner. Collagen-hydroxyapatite composite scaffolds functionalized using BMP-2 are loaded with biodegradable microspheres where ALN is encapsulated.
Th... Read more
Dongtak Lee, Maierdanjiang Wufuer, Insu Kim, Tae Hyun Choi , Byung Jun Kim , Hyo Gi Jung, Byoungjun Jeon, Gyudo Lee, Ok Hee Jeon, Hak Chang & Dae Sung Yoon

Read paper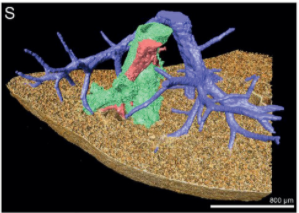 Multiscale Co‐reconstruction of Lung Architectures and Inhalable Materials Spatial Distribution
Pulmonary diseases, such as chronic obstructive pulmonary diseases, lower respiratory infections, and lung cancer are listed in the top ten causes of deaths globally with more than 10 million mortality per year. Apart from oral administration, the Dry Powder Inhalation (DPI) for pulmonary administration provides an important alternative route for targeted treatment of these pulmonary diseases. […] Furthermore, there is a growing demand on und... Read more
Xian Sun, Xiaochuan Zhang, Xiaohong Ren, Hongyu Sun, Li Wu, Caifen Wang, Xiaohui Ye, Peter York, Zhaobing Gao, Hualiang Jiang, Jiwen Zhang, Xianzhen Yin

Read full paper