Welcome to the Amira-Avizo Software Use Case Gallery
Below you will find a collection of use cases of our 3D data visualization and analysis software. These use cases include scientific publications, articles, papers, posters, presentations or even videos that show how is used to address various scientific and industrial research topics.
Use the Domain selector to filter by main application area, and use the Search box to enter keywords related to specific topics you are interested in.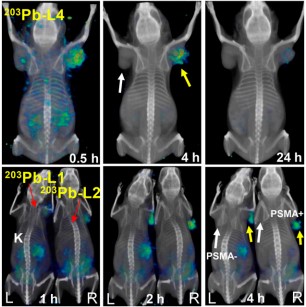 Preclinical Evaluation of 203/212Pb-Labeled Low-Molecular-Weight Compounds for Targeted Radiopharmaceutical Therapy of Prostate Cancer
Targeted radiopharmaceutical therapy (TRT) using α-particle radiation is a promising approach for treating both large and micrometastatic lesions. Researchers developed prostate-specific membrane antigen (PSMA)–targeted low-molecular-weight agents for 212Pb-based TRT of patients with prostate cancer (PC) by evaluating the matching γ-emitting surrogate.
Targeted radiopharmaceutical therapy using α-particles (α-TRTs), which cause deposition of ionizing radiation of high-linear-ener... Read more
Sangeeta Ray Banerjee, Il Minn, Vivek Kumar, Anders Josefsson, Ala Lisok, Mary Brummet, Jian Chen, Ana P. Kiess, Kwamena Baidoo, Cory Brayton, Ronnie C. Mease, Martin Brechbiel, George Sgouros, Robert F. Hobbs, and Martin G. Pomper

Learn more