Welcome to the Amira-Avizo Software Use Case Gallery
Below you will find a collection of use cases of our 3D data visualization and analysis software. These use cases include scientific publications, articles, papers, posters, presentations or even videos that show how is used to address various scientific and industrial research topics.
Use the Domain selector to filter by main application area, and use the Search box to enter keywords related to specific topics you are interested in.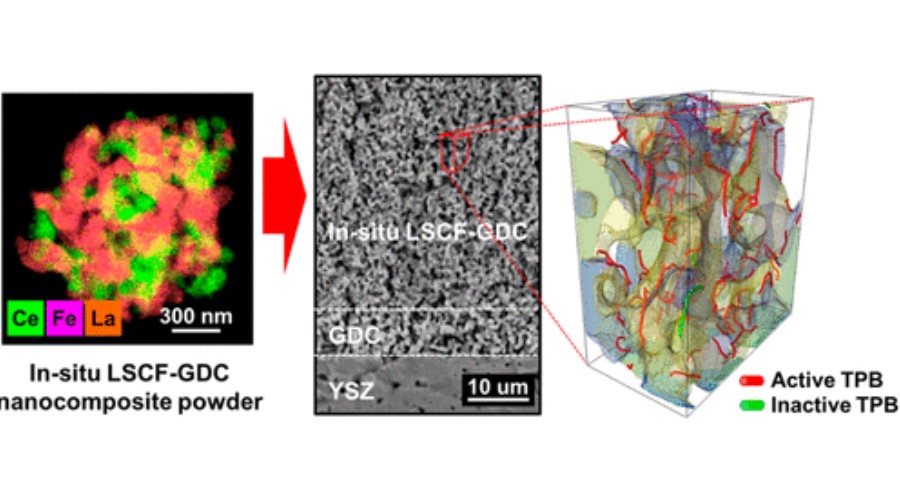 In Situ Synthesized La0.6Sr0.4Co0.2Fe0.8O3−δ–Gd0.1Ce0.9O1.95 Nanocomposite Cathodes via a Modified Sol–Gel Process for Intermediate Temperature Solid Oxide Fuel Cells
Composite cathodes comprising nanoscale
powders are expected to impart with high specific surface
area and triple phase boundary (TPB) density, which will lead
to better performance.
However, uniformly mixing nanosized heterophase powders remains a challenge due to their high surface energy and thus ease with which they agglomerate into their individual phases during the mixing and sintering
processes. In this study, we successfully synthesized La0.6Sr0.4Co0.2Fe... Read more
Dong Woo Joh, Areum Cha, Jeong Hwa Park, Kyeong Joon Kim, Kyung Taek Bae, Doyeub Kim, Young Ki Choi, Hyegsoon An, Ji Su Shin, Kyung Joong Yoon, and Kang Taek Lee

Read paper