Nanoscale state-of-charge heterogeneities within polycrystalline nickel-rich layered oxide cathode materials
ChunTan, Andrew S.Leach, Thomas M.M. Heenan, Huw Parks, Rhodri Jervis, Johanna Nelson Weker, Daniel J.L. Brett, Paul R.Shearing - University College London, London, UK / The Faraday Institution, Didcot, UM / SLAC National Accelerator Laboratory, Menlo Park, CA, USA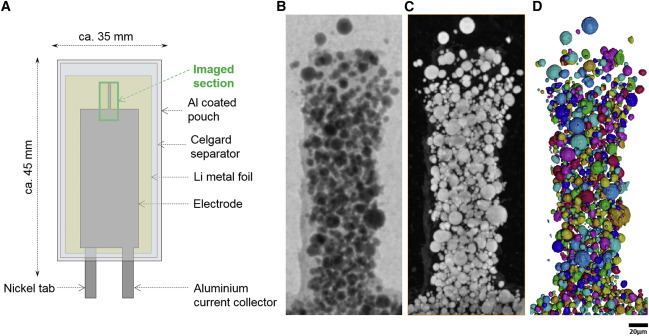 Nickel-rich transition metal oxide materials […] are of great interest for achieving immediate improvements in the energy density of Li-ion batteries and for risk reduction within the Li-ion battery supply chain.
[…] An increase in Ni content in NMC materials leads to accelerated degradation […]. This potentially complicates their adoption in applications requiring extended cycle life such as in electric vehicles.
Recent developments in X-ray characterization tools have provided unprecedented insight into the structural, chemical, and electronic states of materials, and these tools have been harnessed to probe Li-ion batteries both in the lab and in large-scale synchrotron facilities.
[…]
Here, we present a proof-of-concept correlative in situ 3D micro-CT and 2D spectroscopic TXM study on a polycrystalline NMC811 electrode in a half-cell arrangement within our specialized tab pouch cell during its initial delithiation (charge).