Three-dimensional thermal stress analysis of the re-oxidized Ni-YSZ anode functional layer in solid oxide fuel cells
Jun Woo Kim, Kiho Bae, Hyun Joong Kim, Ji-won Son, Namkeun Kim, Stefan Stenfelt, Fritz B. Prinz, Joon Hyung Shim - School of Mechanical Engineering, Korea University, High-temperature Energy Materials Research Center, Korea Institute of Science and Technology (KIST), Division of Nano & Information Technology, KIST School, Korea University of Science and Technology Division of Mechanical System Engineering, Incheon National University, Department of Clinical and Experimental Medicine, Linköping University,Department of Mechanical Engineering, Stanford University, Department of Materials Science and Engineering, Stanford University,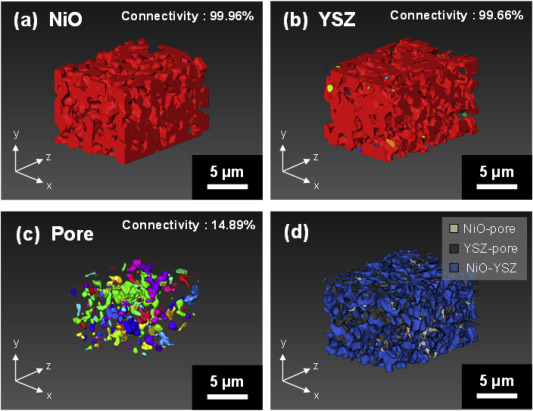 Nickel-yttria-stabilized zirconia (Ni-YSZ) cermet is widely used as an anode material in solid oxide fuel cells (SOFCs); however, Ni re-oxidation causes critical problems due to volume expansion, which causes high thermal stress. We fabricated a Ni-YSZ anode functional layer (AFL), which is an essential component in high-performance SOFCs, and re-oxidized it to investigate the related three-dimensional (3D) microstructural and thermo-mechanical effects. A 3D model of the re-oxidized AFL was generated using focused ion beam-scanning electron microscope (FIB-SEM) tomography. Re-oxidation of the Ni phase caused significant volumetric expansion, which was confirmed via image analysis and calculation of the volume fraction, connectivity, and two-phase boundary density. Finite element analysis (FEA) with simulated heating to 500–900 °C confirmed that the thermal stress in re-oxidized Ni-YSZ is concentrated at the boundaries between YSZ and re-oxidized NiO (nickel oxide). NiO is subjected to more stress than YSZ. Stress exceeding the fracture stress of 8 mol% YSZ appears primarily at 800 °C or higher. The stress is also more severe near the electrolyte-anode boundary than in the Ni-YSZ cermet and the YSZ regions. This may be responsible for the electrolyte membrane delamination and fracture that are observed during high-temperature operation.