Welcome to the Amira-Avizo Software Use Case Gallery
Below you will find a collection of use cases of our 3D data visualization and analysis software. These use cases include scientific publications, articles, papers, posters, presentations or even videos that show how is used to address various scientific and industrial research topics.
Use the Domain selector to filter by main application area, and use the Search box to enter keywords related to specific topics you are interested in.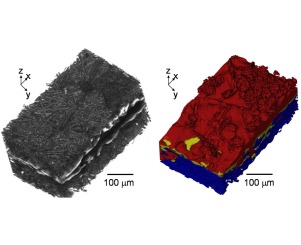 Investigation of Hot Pressed Polymer Electrolyte Fuel Cell Assemblies via X-ray Computed Tomography
The hot pressing process for fabricating membrane electrode assemblies (MEAs) has been widely adopted, yet little is known of its effects on the microstructural properties of the different components of the MEA. In particular, the interaction of the electrolyte, electrode and gas diffusion layer (GDL) due to lamination is difficult to probe as conventional imaging techniques cannot access the internal structure of the MEA. Here, a novel approach is used, which combines characterisation of hot... Read more
Q. Meyer, N. Mansor, F. Iacoviello, P.L. Cullen, R. Jervis, D. Finegan, C. Tan, J. Bailey, P. R. Shearing, D. J. L. Brett

Read paper

A Structure and Durability Comparison of Membrane Electrode Assembly Fabrication Methods: Self-Assembled Versus Hot-Pressed
The most common means of fabricating membrane electrode assemblies (MEAs) for polymer electrolyte fuel cells (PEFCs) involves a hot-press step. The conditions used to perform the hot-press impacts the performance and durability of the fuel cell.
However, the hot-press process is not essential for achieving operational MEAs and some practitioners dispense with the hot-press stage altogether by using a self-assembled approach. By performing the integration of the components in-situ durin... Read more
Jennifer Hack, T. M. M. Heenan, F. Iacoviello, N. Mansor, Q. Meyer, P. Shearing, N. Brandon and D. J. L. Brett

Read full paper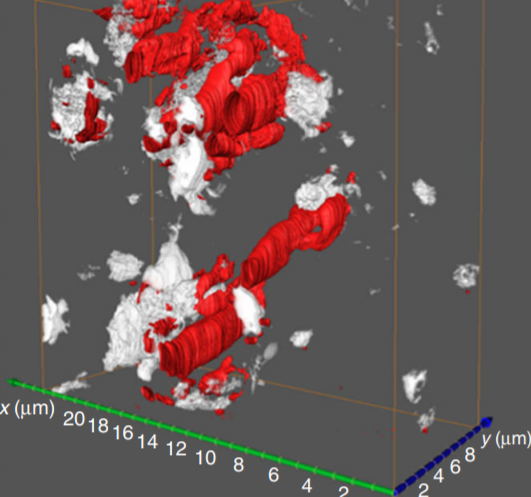 Durable and self-hydrating tungsten carbide-based composite polymer electrolyte membrane fuel cells
Proton conductivity of the polymer electrolyte membranes in fuel cells dictates their performance and requires sufficient water management. Here, we report a simple, scalable method to produce well-dispersed transition metal carbide nanoparticles. We demonstrate that these, when added as an additive to the proton exchange Nafion membrane, provide significant enhancement in power density and durability over 100 hours, surpassing both the baseline Nafion and platinum-containing recast Nafion ... Read more
Weiqing Zheng, Liang Wang, Fei Deng, Stephen A. Giles, Ajay K. Prasad, Suresh G. Advani, Yushan Yan & Dionisios G. Vlachos

Read full paper