Welcome to the Amira-Avizo Software Use Case Gallery
Below you will find a collection of use cases of our 3D data visualization and analysis software. These use cases include scientific publications, articles, papers, posters, presentations or even videos that show how is used to address various scientific and industrial research topics.
Use the Domain selector to filter by main application area, and use the Search box to enter keywords related to specific topics you are interested in.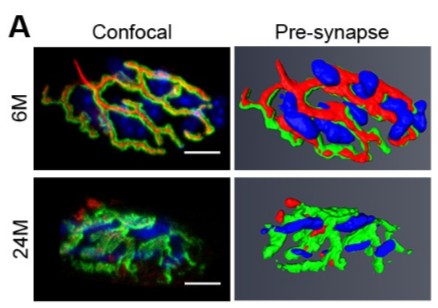 Loss of adult skeletal muscle stem cells drives age-related neuromuscular junction degeneration
Neuromuscular junction degeneration is a prominent aspect of sarcopenia, the age-associated loss of skeletal muscle integrity. Previously, we showed that muscle stem cells activate and contribute to mouse neuromuscular junction regeneration in response to denervation (Liu et al., 2015). Here, we examined gene expression profiles and neuromuscular junction integrity in aged mouse muscles, and unexpectedly found limited denervation despite a high level of degenerated neuromuscular junctions. In... Read more
Wenxuan Liu, Alanna Klose, Sophie Forman, Nicole D Paris, Lan Wei-LaPierre, Mariela Cortés-Lopéz, Aidi Tan, Morgan Flaherty, Pedro Miura, Robert T Dirksen, Joe V Chakkalakal

Read full paper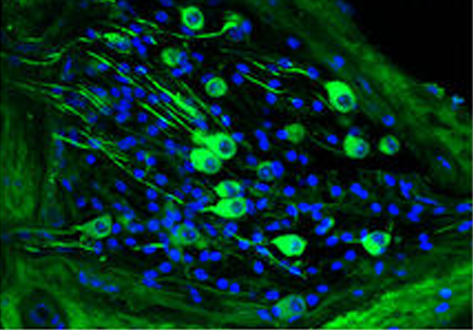 Chronic cigarette smoke exposure drives spiral ganglion neuron loss in mice
Tobacco use is associated with an increased risk of hearing loss in older individuals, suggesting cigarette smoke (CS) exposure may target the peripheral auditory organs. However, the effects of CS exposure on general cochlear anatomy have not previously been explored.
Here we compare control and chronic CS exposed cochleae from adult mice to assess changes in structure and cell survival. Two-photon imaging techniques, including the imaging of second harmonic generation (SHG) and two-p... Read more
Stephen T. Paquette, Ryan P. Dawes, Isaac K. Sundar, Irfan Rahman, Edward B. Brown & Patricia M. White

Read full paper