Welcome to the Amira-Avizo Software Use Case Gallery
Below you will find a collection of use cases of our 3D data visualization and analysis software. These use cases include scientific publications, articles, papers, posters, presentations or even videos that show how is used to address various scientific and industrial research topics.
Use the Domain selector to filter by main application area, and use the Search box to enter keywords related to specific topics you are interested in.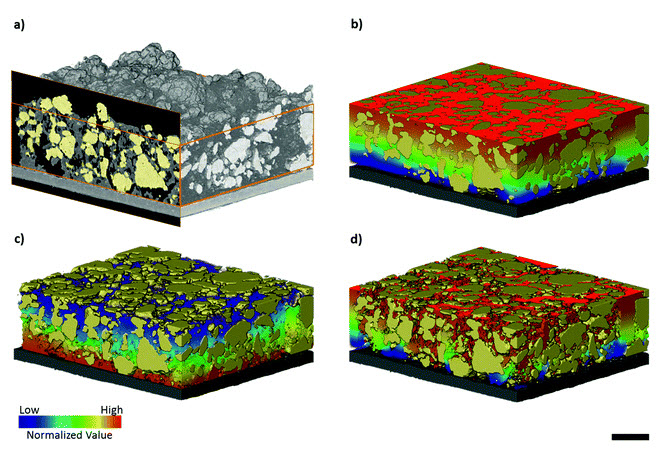 Three-dimensional image based modelling of transport parameters in lithium–sulfur batteries
An elemental sulfur electrode was imaged with X-ray micro and nano computed tomography and segmented into its constituent phases. Morphological parameters including phase fractions and pore and particle size distributions were calculated directly from labelled image data, and flux based simulations were performed to determine the effective molecular diffusivity of the pore phase and electrical conductivity of the conductive carbon and binder phase, D... Read more
Chun Tan, Matthew D. R. Kok , Sohrab R. Daemi , Daniel J. L. Brett and Paul R. Shearing

Read full paper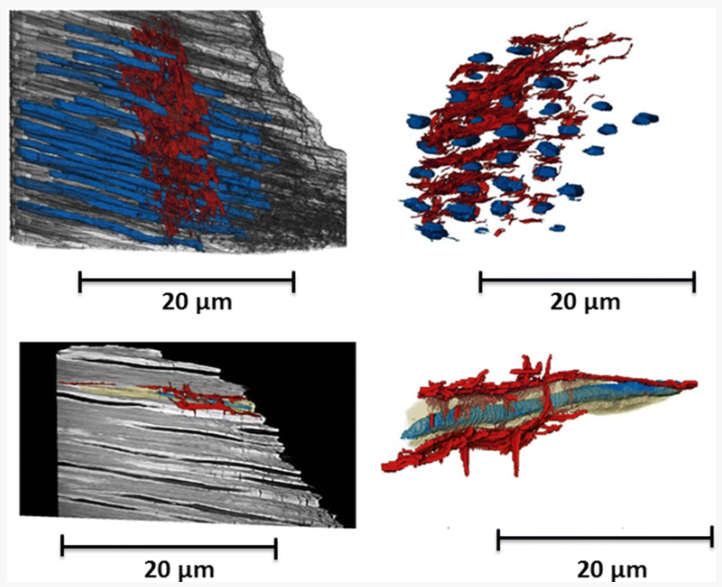 Micron-scale crack propagation in laser-irradiated enamel and dentine studied with nano-CT
The aim of this study was to see the effect of Er:YAG laser irradiation in dentine and compare this with its effect in enamel. The mechanism of crack propagation in dentine was emphasised and its clinical implications were discussed. A possible mechanism is that laser radiation is transmitted down the dentinal tubules causing micro-cracks to form in the dentinal tubule walls that tend to be limited to this region. Crack might be a source of fracture as it represents a weak point and subsequen... Read more
Abtesam Aljdaimi, Hugh Devlin, Mark Dickinson, Timothy Burnett, Thomas J. A. Slater

Read full paper

Analyzing the effects of powder and post-processing on porosity and properties of electron beam melted Ti-6Al-4V
Metal additive manufacturing techniques such as the powder-bed systems are developing as a novel method for producing complex components.
This study uses synchrotron-based X-ray microtomography to investigate porosity in electron beam melted Ti-6Al-4V in the as-built and post-processed state for two different powders. The presence of gas porosity in the starting powder was shown to correlate to porosity in the as-built components. This porosity was observed to shrink after a hot isosta... Read more
Ross Cunningham, Andrea Nicolas, John Madsen, Eric Fodran, Elias Anagnostou, Michael D. Sangid & Anthony D. Rollett

Read full paper