Welcome to the Amira-Avizo Software Use Case Gallery
Below you will find a collection of use cases of our 3D data visualization and analysis software. These use cases include scientific publications, articles, papers, posters, presentations or even videos that show how is used to address various scientific and industrial research topics.
Use the Domain selector to filter by main application area, and use the Search box to enter keywords related to specific topics you are interested in.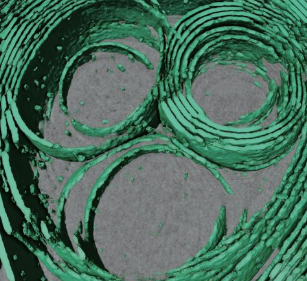 Membrane architecture of pulmonary lamellar bodies revealed by post-correlation on-lamella cryo-CLEM
Lamellar bodies (LBs) are surfactant rich organelles in alveolar type 2 cells. LBs disassemble into a lipid-protein network that reduces surface tension and facilitates gas exchange at the air-water interface in the alveolar cavity. Current knowledge of LB architecture is predominantly based on electron microscopy studies using disruptive sample preparation methods. We established a post-correlation on-lamella cryo-correlative light and electron microscopy approach for cryo-FIB milled lung ce... Read more
Steffen Klein, Benedikt H. Wimmer, Sophie L. Winter, Androniki Kolovou, Vibor Laketa, Petr Chlanda

Read full paper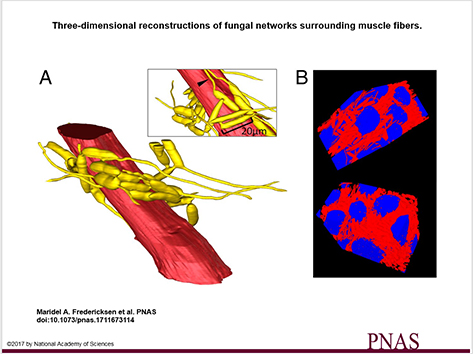 3D visualization and deep-learning reveal complex parasite networks in behaviorally manipulated ants
Microbial parasites may behave collectively to manipulate their host's behavior. We examine adaptations of a microbial parasite in its natural environment: the body of its coevolved and manipulated host.
Electron microscopy and 3D reconstructions of host and parasite tissues reveal that this fungus invades muscle fibers throughout the ant's body but leaves the brain intact, and that the fungal cells connect to form extensive networks.
Read more
Maridel A. Fredericksena, Yizhe Zhangb, Missy L. Hazenc, Raquel G. Loretoa,d, Colleen A. Mangoldd,e, Danny Z. Chenb, and David P. Hughes, Department of Entomology, Pennsylvania State University

Watch video